After a few months of a weakening trend, European electric vehicle (EV) sales in September roared (or maybe whined?) back, up a remarkable 75% YoY, led by a 112% gain in pure EVs (BEV) and with even plug-in hybrids (PHEVs) higher YoY.
I estimate total EV sales in the region were just under 58k, nearly matching the highest month in history, March 2019.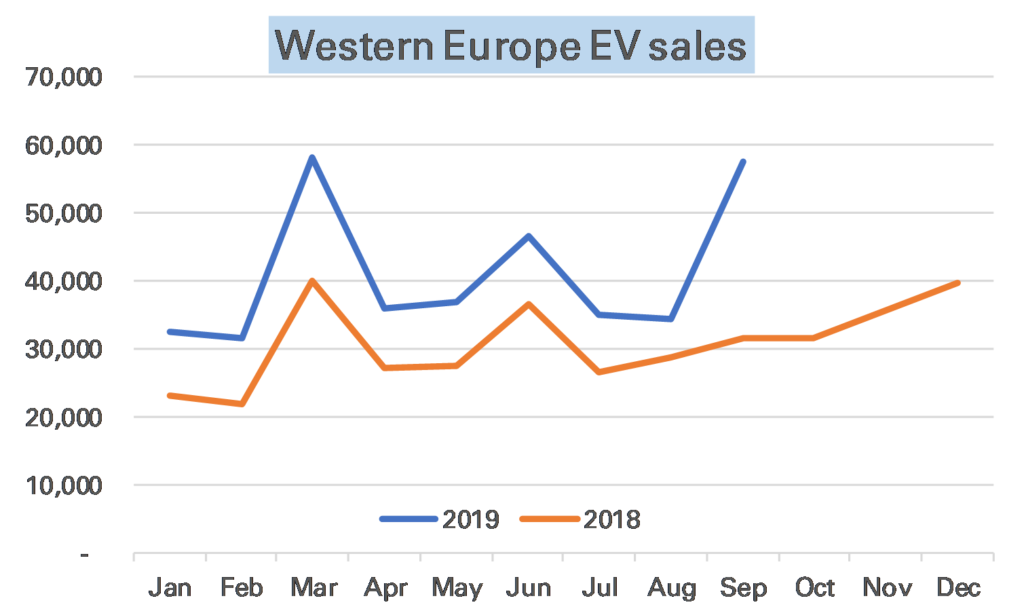 What was behind this performance? That it was nearly a record month is partly sign of the market maturing. March & September are traditionally the strongest month for all new car sales in Europe, with number plate changes (particularly in the UK). It now looks like buyers are waiting for these number plates to get EVs too. The YoY acceleration is more interesting. Partly this was because it was a strong month anyway for all new car sales after a weak September 2018 on emissions changes – up 12% YoY on my estimates. Specifically, however, the roll out of Tesla's Model 3 to Europe continues to have an outsized impact on EV's market share.