A slump in Chinese electric vehicle (EV) sales drove global EV sales into reverse in October. I estimate, using national and other sources, that 130k EVs were sold during the month (140k if you include Chinese commercial vehicles), 32% lower YoY, with both battery-electric vehicles (BEVs) and plug-in hybrids (PHEVs) down a similar amount.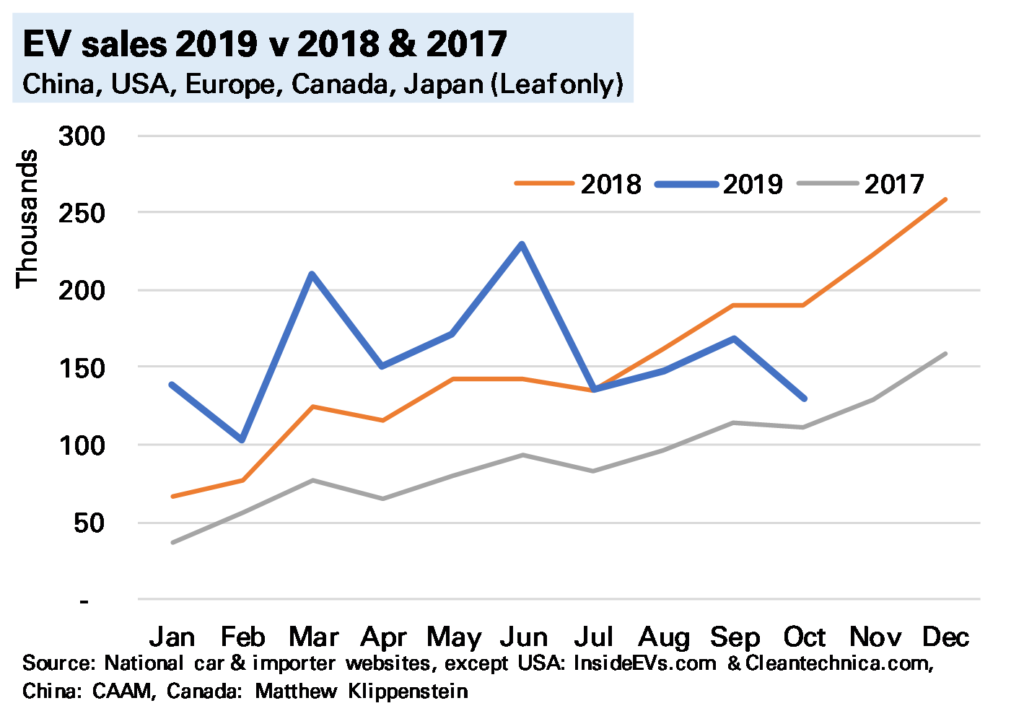 The sharp global YoY fall is partly because in previous years sales have risen into year-end on a combination of beating expiring incentives and a generally rising market. But sales last month were also lower MoM, and while this owes something to wider market trends, it is mostly due to China.
In China, which accounted for 64% of global EV sales in October 2018, EV sales were 54% lower YoY, with BEVs down 47% and PHEVs down 78%. The following chart shows this is not primarily related to a weakening wider market (all passenger car sales were down, but a more modest 6%) but a sizeable fall in market share. The reasons for this we've discussed many times before, and are mostly subsidy-driven, though the extent of the slump does point to some consumer disenchantment. Sales for the full-year are now only 18% YoY higher YTD and could end the year lower than in 2018.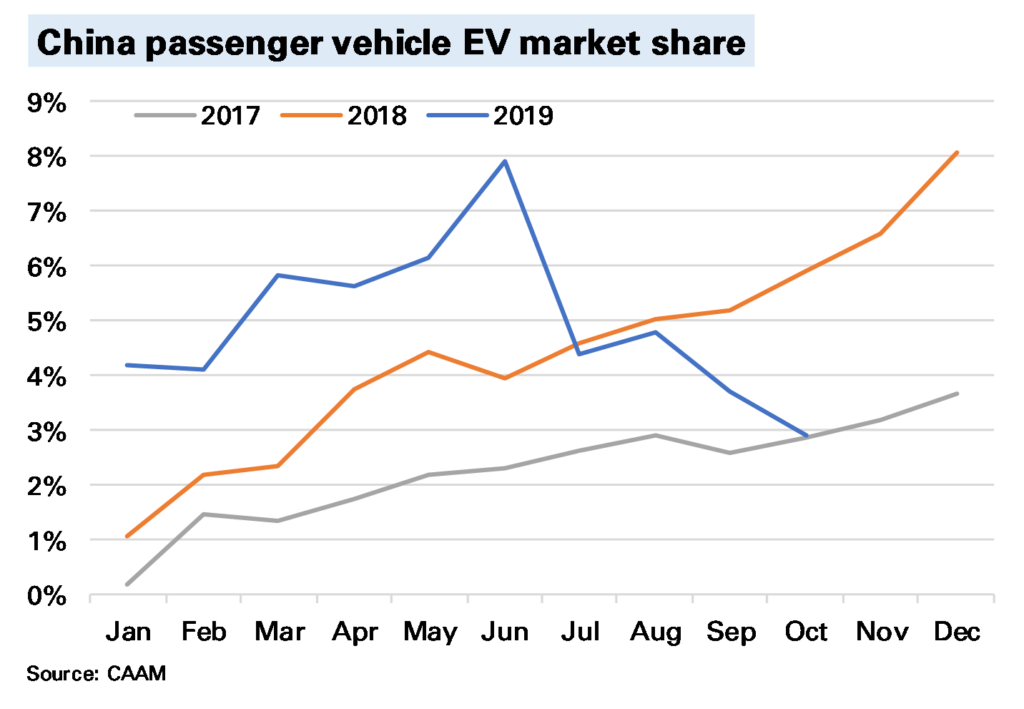 If we exclude China then global EV sales were still slightly higher YoY, though note not by much.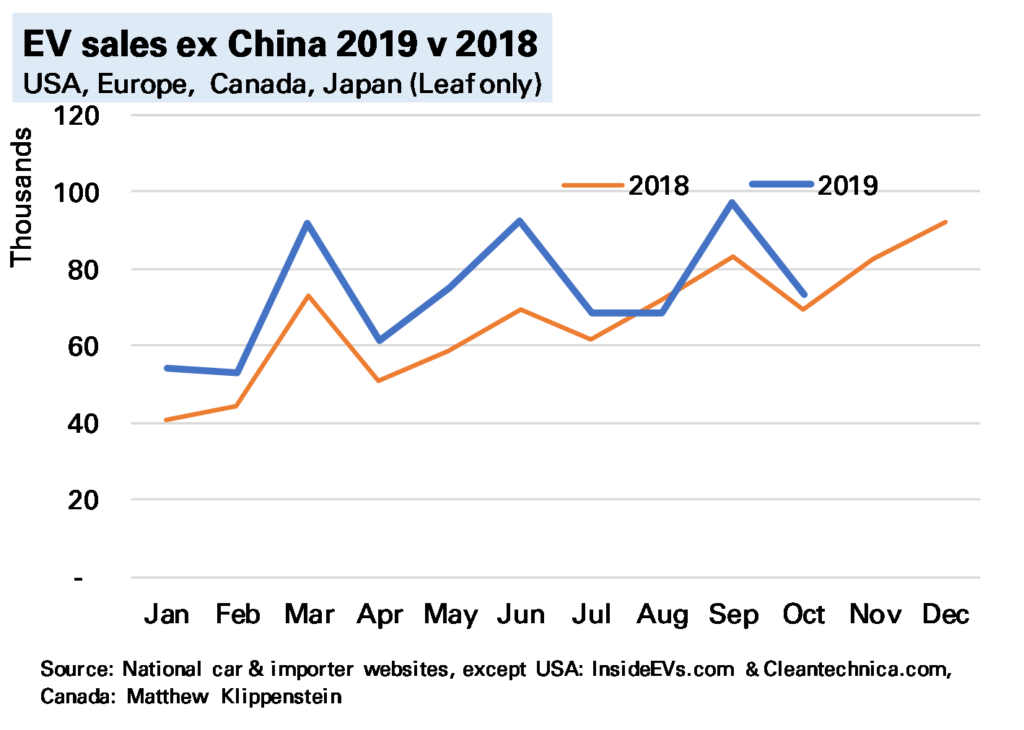 The only bright spot at present is Europe (see my earlier post), where sales were more than 50% higher YoY. And while total EV sales in Europe were still lower than China in October (48k to 56k) the gap has narrowed considerably, and in terms of market share of all car sales Europe has now been higher for two months. Of course this owes something to the Tesla Model 3 roll-out, which is likely to subside, but it does suggest the dominance of the Chinese market in sales is not as obvious as once seen (of course production & battery manufacturer are different questions).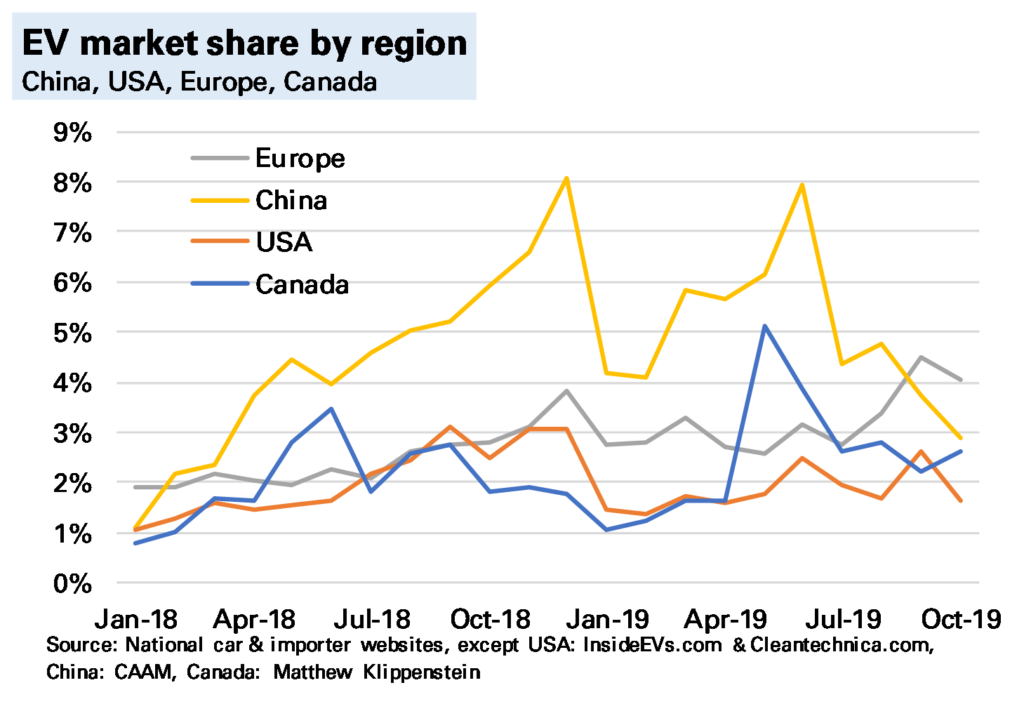 I've not said much about the USA, and for two good reasons. One, sales seem subdued, with Tesla concentrating on foreign markets. Two, we are lacking accurate data. The sterling work done by sites such as www.insideevs.com and www.cleantechnica.com in assessing this continues, but a decision by most manufacturers to switch to quarterly data 1 means much monthly data is now guesswork, and for PHEVs I've had to make an extrapolation on previous trends. This won't make a change to our global conclusions – the US does not have a big enough market – but it does mean we need to be cautious on assessing the micro-trends.
My view on the longer-term outlook remains the same. The current slump is a reminder that technological shifts are rarely smooth, and some of the reasons for it (subsidy-issues, consumer reluctance) also point to why EV roll-out will be slower than the more bullish predictions. But subsidies are not all one way – the German government recently announced more generous ones – and consumer reluctance will be overcome by a wider and better range of models. And 2020 still seems a crucial year for that.
Notes:
There is no national or govt tabulation as in many other countries ↩