The impressive growth in global* electric vehicle sales came to an end in August, with a 9% YoY fall (updated from a 2% gain after the release of further data).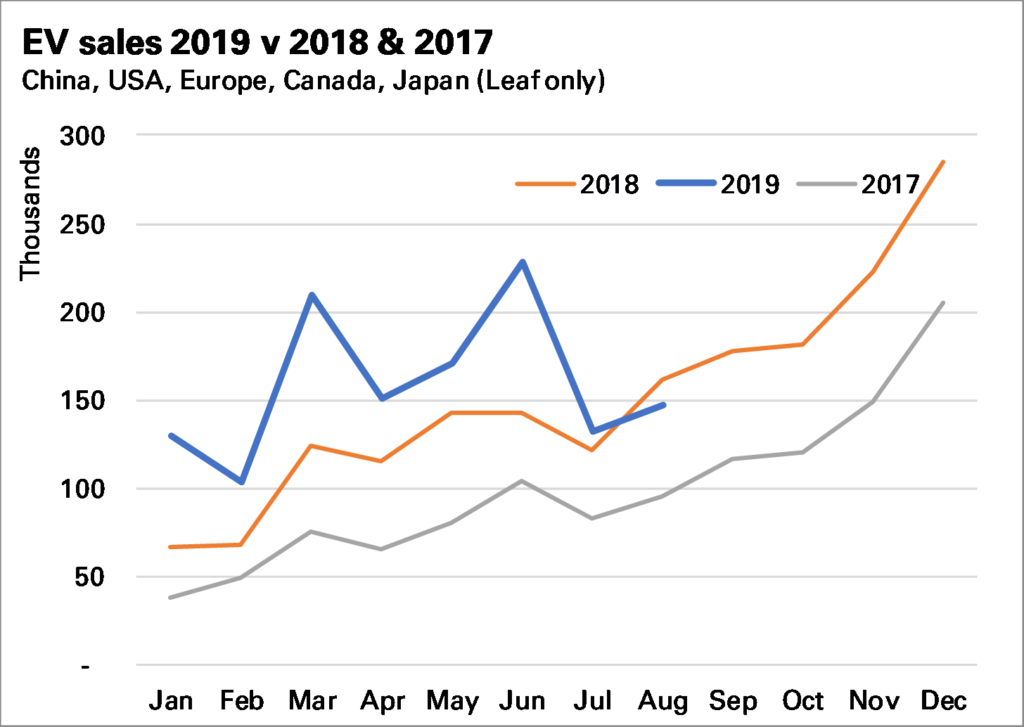 147k EVs were sold during the month: 111k battery-electric vehicles (BEVs), up 4% YoY, and 36k plug-in hybrid electric-vehicles PHEVs), down 34% YoY.
This slowdown in global sales growth can be attributed to:
A fall in China post subsidy changes (down 12% YoY in August), which had also brought forward some sales. This matters as China still accounts for more than half of all EV sales.
Slightly slowing growth in Europe (21% YoY in August) despite the Tesla Model 3 doing well, and, most important in August;
A fall in USA sales as Teslas are diverted to other markets (down 24% YoY in August). An important caveat here: US sales data has become harder to compile in recent months as automakers have revealed less information and (building on www.insideevs.com efforts) I've had to estimate some of the smaller selling models. However there's no doubt sales were lower YoY.
In terms of market share China remains ahead (though obviously some European states such as Norway are individually much higher). Canada's share was boosted by high Model 3 sales. Europe's continues to steadily rise, supported by generous subsidies.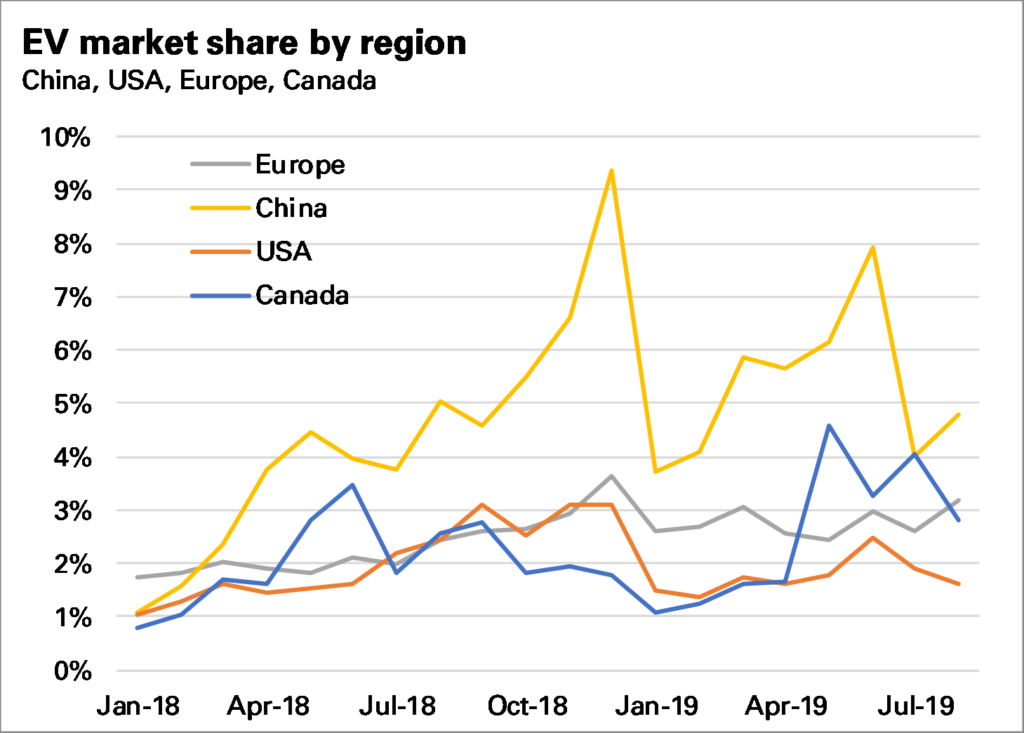 Looking ahead, should the weak August numbers shift our longer-term expectations?
Yes, and no.
Yes because it seems unlikely 2019 global full year sales will be able to match some of the earlier targets. YTD sales remain 35% higher, but if sales growth is flat from now until December it would end the year up less than 20%. And it is always risky to ignore actual data: what this year's ups and downs have shown is that the market remains rather niche: subsidy driven and dependent it on new models.
But no because while subsidies will continue to decline, new model launches are going to multiply. In particular lower cost EVs from established manufacturers, including the potentially game-changing VW ID3 (shown at this week's Frankfurt motor show) will finally come on to the market in 2020. Ultimately this is what will drive EV market share higher.
Sources: USA – www.insideevs.com, Europe – national car & dealer associations, China – CAAM, Canada – Matthew Klippenstein. * Global = China, USA, Canada, Europe and Japan (Leaf only).